2013 CMAS Underwater Photography World Championship (14th) in Cayo Largo (Cuba) – Silver medal wide angle
Silver medal in the Wide Angle category on the 14th CMAS Underwater Photography World Championship in Cayo Largo (Cuba) last week!!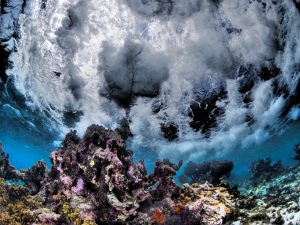 It was a wonderful experience. Together with my assistant / buddy Corne Bolders I was able to shoot some nice photos. Sea temperature was comfortable and visibility was OK.
The wind was quite strong creating big waves causing a strong swell. Supermacro was hard and I didn't get a chance to use the new Light Shaping Device.
The big waves however provided a stunning environment to shoot an extrordinary photo…my wide angle shot of the waves was rewarded with a Silver Medal.
I achieved the 8th position on the overall ranking!
I met a lot of interesting people and had a great time with the other Dutch team, our team captain and the whole Dutch delegation!
Specials thanks to the CMAS, Nederlandse Onderwatersport Bond, Corne Bolders, Ron Offermans (teamcaptain), Henny Blokvoort and Stella Huiskamp.