About Marco Heesbeen…
Marco was born in the Netherlands in 1974. He started diving in 1999 and took the required courses for CMAS 2*  certification. Within a year he purchased his very first digital underwatercamera and was immediately hooked to underwaterphotography. Now he seldom goes underwater without his camera. He quotes "If I don't take along my camera, for sure I'll see something very special and be extremely dissapointed that I couldn't take a picture of it.".
Throughout the years he developed his own style of photography. He's always looking for extraordinary shots and tries to shoot powerful images that are untraditional, sometimes even abstract, that will make you wonder how they are made.

He enjoys participating in National and World Championships Underwaterphotography where he can talk with fellow underwaterphotographers from all over the world, about their mutual passion and exchange photos and ideas. Marco has already won the National Championship three times and participated in two CMAS World Championships.
His personal highlights were the silver and golden medals that he won at the CMAS World Championships in Cuba (2013) and the Netherlands (2015).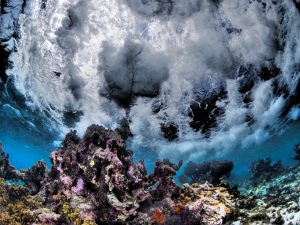 In 2002 he started his own underwater camera shop in the Netherlands called "Onderwaterhuis.NL" which is Dutch for Underwater housing. The shop has become much bigger since then and nowadays a team of 6 passionate divers and photographers serve customers with everything related to underwater photo and video. So he can really say that he turned his hobby into his job!
Marco also frequently writes reviews of new equipment that is related to underwaterphotography. His work is published in major national magazines, like "Duiken" and "Onderwatersport" as well as on numerous websites.
Marco's gear
The equipment that he uses has changed a lot since he started shooting photos underwater in 1999. His first underwatercamera was an Olympus C-920 Zoom compactcamera (1.3MP). A couple of years later he upgraded to a more advanced compactcamera: the Olympus C-4040. The equipment list was growing…external strobes were added as well as macro and wide angle conversion lenses. The quality and capabilities of digital cameras were changing rapidly and he wanted to take advantage of the new possibilites, so the underwatercamera gear changed almost every year…Olympus C-5050, C-5060 Wide Zoom, C-7070 Wide Zoom and then he upgraded to a SLR based system. In 2010 he switched to the Olympus PEN/OM-D system. The smaller size and weight leaves more room for other important equipment (strobes, wetlenses, etc.) to take along on his diving trips (especially when flying).
His current underwatercamera system is based on the Olympus OM-D E-M1 Mark III in a Nauticam housing. Professional performance in a compact body, just perfect for underwaterphotography.
Camera: Olympus OM-D E-M1 Mark III. Professional 20Mp mirrorless system camera with interchangeable lenses, fast AutoFocus system and excellent image quality and speed.
Housing: Nauticam NA-EM1II. Lightweight aluminum housing, all functions operable, rated to 100meters.
Standard lens: Olympus m.Zuiko 12-50. Nice allround lens with possibility to use external wide and macro conversion lenses.
Wide angle lenses: Olympus m.Zuiko 9-18 / Olympus m.Zuiko 7-14 Pro & Nauticam Dome Ports. Great wide angle lenses with high image quality when used behind the proper Nauticam Dome Ports.
Fisheye lens: Olympus m.Zuiko 8mm Pro / Nauticam Fisheye Port. Fantastic lens / port combination for large subjects, reefshots and wrecks.
Macro lenses: Olympus m.Zuiko 30mm and m.Zuiko 60mm. The ultimate macro setup for the OM-D system. Incredibly clear and sharp.
Wet conversion lenses: Nauticam CMC, Nauticam SMC and Nauticam WWL-1 conversion lenses. These lenses provide high quality images and optimum flexibility.
Strobes: 2 x INON Z-330 strobes. Small and lightweight strobes featuring a wide and even beam angle.
UWCameraStore Fiber Snoot Pro dual & UWCameraStore Flip Snoot Pro. Great tools for special effects and "snooted" images.